List of Top 10 Private MBBS colleges in Madhya Pradesh, Rank Wise
Students who are interested in studying medicine can become doctors and bring about a change in the lives of people. After becoming MBBS doctors they can choose to specialize in various fields and become pediatricians, orthopedists, gynecologists, endocrinologists, ENT specialists, diabetologists, and cardiologists. Madhya Pradesh has numerous medical colleges all across its many towns and cities that offer medical courses. Besides scoring high marks, students have to pass tests held at the national level and meet specific guidelines specified by the colleges. Based on our own surveys, special techniques, and media reports, we have compiled a list of top medical colleges in Madhya Pradesh.
Top 3 Private MBBS Colleges in Madhya Pradesh
1. SRI AUROBINDO INSTITUTE OF MEDICAL SCIENCES - [SAIMS], INDORE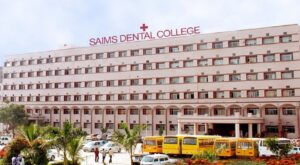 Sri Aurobindo Institute of Medical Sciences (SAIMS) is a private medical institute in Indore founded in 2003. The College offers courses like MBBS, MS, MD, DM, M.Ch. and D.Orthopaedics. Admission to the institute is done on the basis of the entrance exam such as NEET-UG, NEET-PG, and NEET SS. The application process for the same is online and candidates can obtain the form directly on the official website. 
Affiliation
| | |
| --- | --- |
| Affiliations & Recognized by | Medical Council of India & Devi Ahilya Vishwa Vidhyalaya (DAVV), Madhya Pradesh |
Courses
Fees
Address & Contact Info
Book Call For Counseling Help
2. R D GARDI MEDICAL COLLEGE - [RDGMC], UJJAIN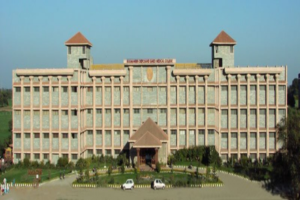 R D Gardi Medical College (RDGMC) is a private medical college established in the year 2001 at Ujjain, Madhya Pradesh. It has been approved by MCI and is affiliated with Vikram University, Ujjain. The college offers MBBS at the Undergraduate level and MD and MS programs at the Postgraduate level. Admissions to the courses are purely based on national level entrance tests.
Affiliation
| | |
| --- | --- |
| Affiliation & Recognition | MCI & Vikram University, Ujjain |
Courses
Fees
Address & Contact Info
3. CHIRAYU MEDICAL COLLEGE AND HOSPITAL - [CMCH], BHOPAL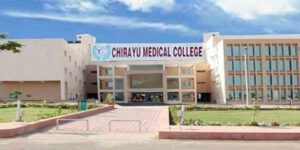 Chirayu Medical College and Hospital (CMCH) was established in 2011. The college offers Undergraduate, Postgraduate, Diploma and Certificate courses in the field of medical science. Eligibility for MBBS and MD courses is 10 + 2 passed and MBBS passed respectively. Admission to MBBS is done on the basis of the NEET-UG score and to MD program is done on the basis of NEET PG score. Admission to all the other programs is done on the basis of merit in the previous qualifying examination.
Affiliation
| | |
| --- | --- |
| Affiliation & Approved by | MCI & Madhya Pradesh Medical Science University, Jabalpur |
Courses
Fees
Address & Contact Info
Book Call For Counseling Help
List of Top 4 to 10 Private MBBS Colleges in Madhya Pradesh, Rank Wise
4. PEOPLE'S UNIVERSITY, BHOPAL
5. L N Medical College, BHOPAL
6. INDEX Medical College, INDORE
7. RKDF Medical College Hospital & Research Center, Bhopal
8. AMALTAS Institute of Medical Sciences, Dewas, Indore
9. LN Medical College - [LN], BHOPAL
10. Shyam Shah Medical College, Rewa
11. Sukh Sagar Medical College & Hospital- jabalpur {New}
Book Call For Counseling Help
Average NEET Cut Off FOR MBBS
Medical colleges (Private)
Institution

General

OBC

SC

ST

NEET Rank

NEET Score

NEET Rank

NEET Score

NEET Rank

NEET Score

NEET Rank

NEET Score

Amaltas Institute of Medical Sciences

68239

471

69496

469

221921

324

777154

119

Chirayu Medical College Bhopal

44526

508

52937

494

181532

353

488580

192

Index Medical College Indore

62323

479

76503

459

215620

328

488384

192

L.N. Medical College, Bhopal

53397

493

70785

467

211813

331

840109

107

People's College of Medical Sciences, Bhopal

46341

505

64684

476

190576

346

564303

168

RD Gardi Medical College, Ujjain

40867

515

49836

499

167153

365

368482

240

Sri Aurobindo Institute of Medical Sciences (SAIMS), Indore

39990

516

46059

505

150307

380

321579

264